forgot to post yesterday! a book by tatsuya kerada (the guy who did blood, the last vampire) - "rakugaking", arrived, and i was mesmerized by it. a thousand pages of sketches and doodles! and all interesting, fun, well drawn. and the book itself is really a piece of art, with a nice carboard box. yum!
since i forgot to post, i'll try to post twice today. first things first:



then a couple sketches from bed last night-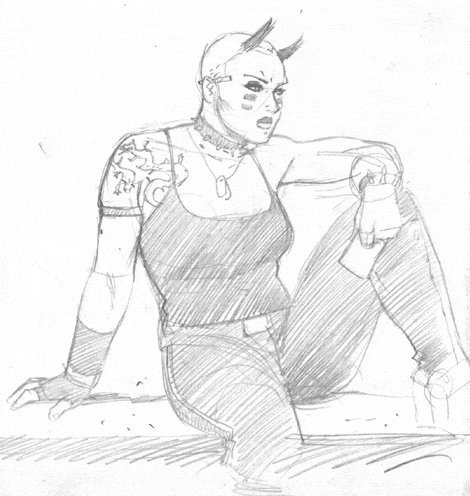 and a wee sketch with the new brushpen. i love it since it's hard to control and doesn't let me get anal with the lines:


i also read seth fisher's ( link ) five part batman story, "snow", last night. in case you never saw anything by seth, go look it up. i must admit that before his untimely death few months back, i didn't see much of his stuff either. but since then i read everything i could find (vertigo pop: tokyo!, fantastic four & iron man: big in japan, doom patrol #13-14, etc.), and it was all very good and i'm a big fan now. there's not much of it, but whatever you find, it'll be better than most of the stuff around.
-tonch
soundtrack: sonic youth - murray st.